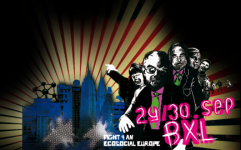 Since the crisis of Greece and the euro in early May, the European Union has become a political zombie: its neoliberal and monetarist brain is damaged, but it continues to create havoc and disaster. Merkel, whose inaction has escalated the cost of the financial crisis from €45 to €450 million, is imposing her mantra on Europe: Austerity, Austerity, Austerity. Cuts in public spending and wage freezes are imposed on a society already made precarious by the Great Recession. Greece, Spain, Italy, France, Germany, Belgium: nobody is sheltered from the attack on the european welfare state by global finance.
Barroso (Commission in Brussels) and Trichet (Central Bank in Frankfurt), although they would like to handle the crisis themselves instead of national governments, concur that only swift cuts can restore the faith of financial markets in the euro. International banks and speculators are demanding that all of us foot the bill for the deficits created two years ago to save their asses. Austerity will worsen the crisis, which has already made millions of precarious unemployed, and plunge the european economy into deflation, in a vicious circle of recession and unemployment, mounting xenophobia and nationalism.
Against this process, we have to defend social rights and transform european society, resist and create. There's but one solution which could take us forward : A social & ecologic Europe. where present european élites are finally neutralized, and the present course toward deflation is reversed to subsidize the emerging p2p european democracy. We need to stop financing banks, public spending must support a commons-based economy, creativity and social innovation. Europe must secure an unconditionnal income to all workers, with or without a job. It's time to get out of productivism and consumerism : it's time to invest in environnmentally sound ways : sustainable mobility, local agricultural production, deployment of renewable energy, environmental education…. Social spending must be used to strengthen the social networks of solidarity across lands and generations.
Only generalized conflict can emancipate the precarious generation and reverse the present trend toward the decline in social spending. Only Europe's multiethnic cities can defeat the heightened racism of an aging, regionalized, re-nationalized europe.
We won't let european fincance ministers submit us to globalised markets. We refuse austerity plans prepared for us by ECOFIN. We refuse that all of us, precarious, workers, pensionners, and migrants are to be the first to pay for that global monopoly. We invite all precarious, workers, migrants, unemployed, social, environmental & anticapitalist activists to come to bruxelles on september 29th 2010 to act against ECOFIN, european finance ministers summit
BXL is not only the capital of a small country supposed to lead European presidency although itself has no government yet. BXL, it is also the headquarters of european institutions, like the european commission, detaining the exclusive power of proposing and developping new legislations, making it a primary target for lobbyists. Because BXL, it is also, and foremost, a lobbying paradise, with more than 1000 of them, 15000 professionals of influence, pushing the interests of big multinationals and globalised finance, for which the crisis is just but another occasion of pulling the jackpot.
On 29.9, we will then answer the call made by the european union confederation, even though we don't share the motto. Growth and Jobs won't get Europe out of crisis, but generalised ecological transformation and guaranteed income for everyone. Yet, it's not with a demo that we'll dismiss ECOFIN but with non violent direct action.
On 30.9, in bruxelles, we will be on the eye of the storm, determined to make our voice heard. If direct action is part of your political language, brace yourself and come to Bruxelles for a great game against austerity
No Borders, no precarity, no to fossil europe And FUCK AUSTERITY
Bruxelles 25 September – 3 October: NOBORDER Camp 29 September: Critical/Anticapitalist bloc in ETUC/CES Demo. 28-30 September: Streetparties, direct actions against ECOFIN, lobbies, banks and rating agencies.
Depuis la crise grecque et celle de l'euro, l'union européenne est devenue un zombie politique : son cerveau néolibéral est endommagé mais continue de provoquer carnages et désastres. Merkel, dont l'inaction a fait passer la note de la crise de 45 à 450 milliard d'euros, impose son mantra à l'Europe : Austérité, Austérité, Austérité. Coupes sombres dans les dépenses publiques et gel des salaires sont imposés à une société déjà précarisée par la récession. L'Espagne, l'Italie, la France, la Belgique, l'Allemagne : personne n'est à l'abri des attaques contre l'Etat social menées par la finance internationale. Barroso et Trichet, qui auraient aimé gérer la crise à la place des gouvernements nationaux, chantent partout que seules des coupes rapides et efficaces peuvent restaurer la confiance des marchés financiers en l'Euro. Banques internationales et spéculateurs nous font payer la facture des déficits créés pour sauver leurs culs via la dette publique. L'austérité aggrave la crise, qui a déjà fait basculer des millions de personnes dans la précarité, et plonge l'économie européenne dans la déflation. Cette austérité nous entraîne dans un cercle vicieux de récession et de chômage, faisant le lit de la xénophobie et du nationalisme.
Seul un conflit social généralisé peut émanciper la génération précaire et inverser la tendance actuelle du déclin des investissements publics. Seules les métropoles cosmopolites de l'autre Europe multi-ethnique peuvent combattre l'ascension d'une Europe raciste, vieillissante, régionaliste et en voie de renationalisation. Nous ne laisserons pas les ministres européens nous soumettre aux marchés financiers. Nous refusons les plans d'austérité que nous prépare l'ECOFIN. Nous refusons que les travailleurs, les précaires, les pensionnés et les migrants soient les premiers à faire les frais du monopoly global. Nous invitons tous les précaires, les migrant-e-s, les sans emploi, les militant-e-s du mouvement social européen ainsi que tous les activistes anticapitalistes à venir à Bruxelles ce 29 septembre 2010 pour agir contre le sommet des ministres des finances, l'ECOFIN.
Bruxelles n'est pas seulement la capitale du petit pays qui doit assumer la présidence européenne alors qu'il n'a pas de gouvernement lui-même; Bruxelles, c'est aussi le siège des institutions européennes, dont la toute puissante Commission qui détient le pouvoir exclusif de proposer et de développer les nouvelles législations, ce qui en fait une partenaire idéal pour les lobbyistes. Parce que Bruxelles, c'est enfin et surtout le paradis des lobbies, on en compte plus de mille et la grande majorité des 15.000 professionnels du secteur représente les intérêts des grandes banques, des multinationales et de la finance internationale, pour lesquelles la crise n'est qu'une occasion de plus de décrocher la timbale.
Ce 29 septembre, nous allons donc répondre à l'appel lancé par la Confédération Européenne des Syndicats même si nous n'en partageons pas les mots d'ordre. Ce ne sont ni la croissance ni les emplois qui peuvent sortir l'Europe de la crise, mais une transformation écologique de notre société et un revenu garanti à tout-es. Alors que certains pays européens seront en grève générale, nous serons dans l'oeil du cyclone, déterminé-es à faire entendre notre voix.
Ce 30 septembre, nous nous inviterons à la table de l'ecofin. D'abord parce qu'ils vont vraiment bien manger, et qu'il n'y a pas de raison que nous ne mangions pas bien aussi. Ensuite, parce que ce n'est pas un défilé qui empêchera l'ecofin de mettre notre futur sous hypothèque, mais bien l'action directe non-violente. Si elle fait partie de ton langage politique, prépare-toi et viens à Bruxelles pour un Grand Jeu contre l'Austérité.
Source: http://precarious-united.eu